Outdoor Waterproof Vinyl Decking
If you're looking for outdoor vinyl decking in Canmore that is designed to withstand the amount of rain, snow, wind, and sun we get here, then Tufdek vinyl is the ideal choice. Tufdek vinyl flooring is durable, long-lasting and provides a 100% waterproof seal, meaning it is tough enough to protect your outdoor living space.
Tufdek vinyl isn't a paint or sealant. Tufdek is an approved outdoor waterproof decking material. It is perfect for all your outdoor living spaces such as walkways and stairways, balconies, sundecks, patios, and even to cover concrete surfaces.
Canmore is a beautiful place to explore and enjoy during all four seasons. If you're one of those lucky ones to call Canmore home, you also know that the weather and elements can play havoc on your outdoor wood and cement decks. That's where Tufdek vinyl comes in.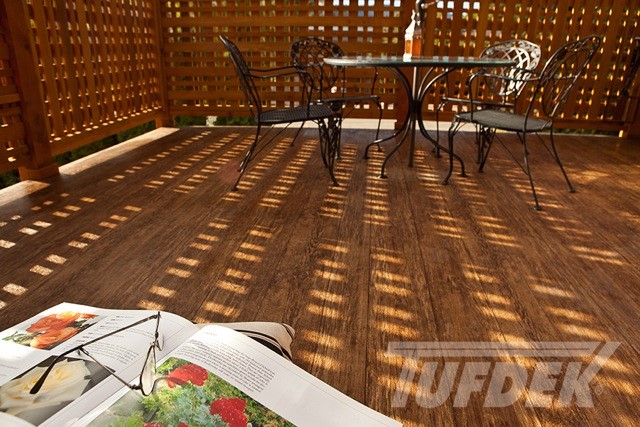 About Tufdek Vinyl
As an authorized Tufdek vinyl decking dealer and installer, we're proud to recommend this top-quality outdoor vinyl flooring. We love Tufdek's warranty and quality. Along with Supreme Almond, Graphite, Pearl, Marble, and Walnut patterns, Tufdek offers a great range of vinyl decking colours and styles including among others:
Our Commitment to Excellence
Providing excellent customer service and quality products are the keys to our success. Canmore is our home so it is important that every client we service receives the very best in care. That's why we recommend the best products with the best warranties, like Tufdek vinyl.
Our Core Principles include:
Being on time
Leaving a clean workplace
Respecting our clients and their homes
Providing exceptional customer service
Only carrying and installing top quality products
Southwestern AB Areas We Service
Our factory trained and authorized Tufdek vinyl installation technicians are proud to service many of the communities in Southwestern Alberta including among others:
| | |
| --- | --- |
| Canmore | Kananaskis Country |
| Banff | Dead Man Flats |
| Lake Louise | |
Contact Us
Tufdek makes attractive yet durable outdoor waterproof vinyl deck flooring that is designed for all weather conditions. If you have any questions about our Canmore vinyl decking company or if you would like a vinyl decking quote, please contact the Tufdek head office. You can also reach us through the toll free number at 1-877-860-9333 or complete the following online contact form.
Each dealer and installation contractor is independently owned and operated. Each dealer is an authorized licensed user of the trademarks Tufdek™, Tuff-shield™, Econodek™, Scuff Guard™ and Cool-Step™ which trademarks are owned by Tuff Industries Inc. Dealers and installation contractors have no authority to assume or create any obligation whatsoever, expressed or implied, in the name of Tuff Industries Inc., nor to bind Tuff Industries Inc. in any manner whatsoever. Dealers and installation contractors are solely liable for all installation-related repairs and defects and related warranty work. Tuff industries Inc. strongly recommends that customers first conduct their own independent due diligence and investigations regarding the experience and qualifications of such dealers and installation contractors prior to retaining them.
---
Tufdek is the WORLD'S STRONGEST vinyl decking