Tufdek Testing & Certification
Waterproof vinyl deck and membrane testing and certifications are the crucial elements for the continued success of Tufdek™ vinyl deck waterproofing and roof decking materials. We are continually subjecting our waterproof vinyl decking materials to extensive tests and independent audits to conform to the various national and international roofing standards throughout North America. See our specifications page for product drawings and details. The various testing and certification organizations listed below ensure every square foot of Tufdek waterproof vinyl decking complies with the industry's highest standards.

Who is Trinity/ERD?  As one of the premier roofing and waterproof testing, certification and consulting organizations in North America, Trinity | ERD's laboratory has provided independent testing services to manufacturers, consultants, architects, engineers, and contractors from around the world since 1995.  Tufdek utilizes their accredited laboratory to perform various tests to ensure our waterproof decking and Tuff Shield roofing materials continue to meet code expectations, warranty standards, and numerous other aspects of building envelope integrity.

  Tufdek's CGSB and ASTM Evaluations

  Trinity Tuff Shield Roofing approval

Who is Intertek?  Intertek is the world's largest independent testing, inspection and certification partner.  Intertek provides manufacturers and retailers with faster, more efficient market entry around the world.  Their services include electrical safety testing, EMC testing, benchmark and performance testing, and turnkey certification management – all backed by a global network of product testing experts. Intertek provides the certifications and plant audits for all Tufdek vinyl waterproof decking products.

  Intertek Abrasion Resistance Report 2016

  Intertek Thickness Report 2016 

  Intertek Lap Joint Comparison Report 2008

Intertek Lap Joint Report 2016

  Intertek Skid Resistance Report 2016

Intertek Certification Listings 2016

Who is CCMC?  The Canadian Construction Materials Centre (CCMC) offers a national evaluation service for all types of innovative construction materials, products, systems and services.  Operating within the National Research Council Institute for Research in Construction (NRC-IRC), CCMC evaluations are based on the requirements of the National Building Code of Canada:
Health and Safety
Functionality
Accessibility
Egress
These are supported by the latest technical research and expertise.  CCMC evaluated products are used in commercial and residential buildings, roadways, bridges and buried services.  Tufdek vinyl waterproof roof decking is listed with CCMC as an approved roofing material.

Who is NFSI?  The National Floor Safety Institute was founded in 1997 as a not-for-profit 501 (c)(3) organization whose mission is to aid in the prevention of slips, trips-and-falls through education, research, and standards development.
The NFSI is led by a fifteen-member Board of Directors representing product manufacturers, insurance underwriters, trade associations, and independent consultants.  Tufdek ™ is listed with NFSI.


Who is Atlas? For more than 100 years Atlas Weather Testing Solutions has provided customers with sophisticated technology and advanced testing solutions to determine how long their products will last.
Who is QAI? QAI offers Accredited laboratories in USA and Canada for: Building Products EMC testing Electrical safety testing Fire testing And many other industries. Founded in 1994 by a group of experienced certification and testing experts, QAI is an independent third-party testing, inspection and certification organization which serves the building industry, government and individuals.

Class A Fire Rating Report 2015

Class C Fire Rating Report 2015
Contact Tuff Industries
For more information about Tufdek waterproof vinyl deck testing and certifications please contact our vinyl deck experts here at Tuff Industries.
Contact us online. Or call our vinyl decking experts toll free at 1-877-860-9333.
Each dealer and installation contractor is independently owned and operated. Each dealer is an authorized licensed user of the trade mark Tufdek™, which trade mark is owned by Tuff industries Inc. Dealers and installation contractors have no authority to assume or create any obligation whatsoever, expressed or implied, in the name of Tuff Industries Inc., nor to bind Tuff Industries Inc. in any manner whatsoever. Dealers and installation contractors are solely liable for all installation-related repairs and defects and related warranty work.
Tuff industries Inc. strongly recommends that customers first conduct their own independent due diligence and investigations regarding the experience and qualifications of such dealers and installation contractors prior to retaining them.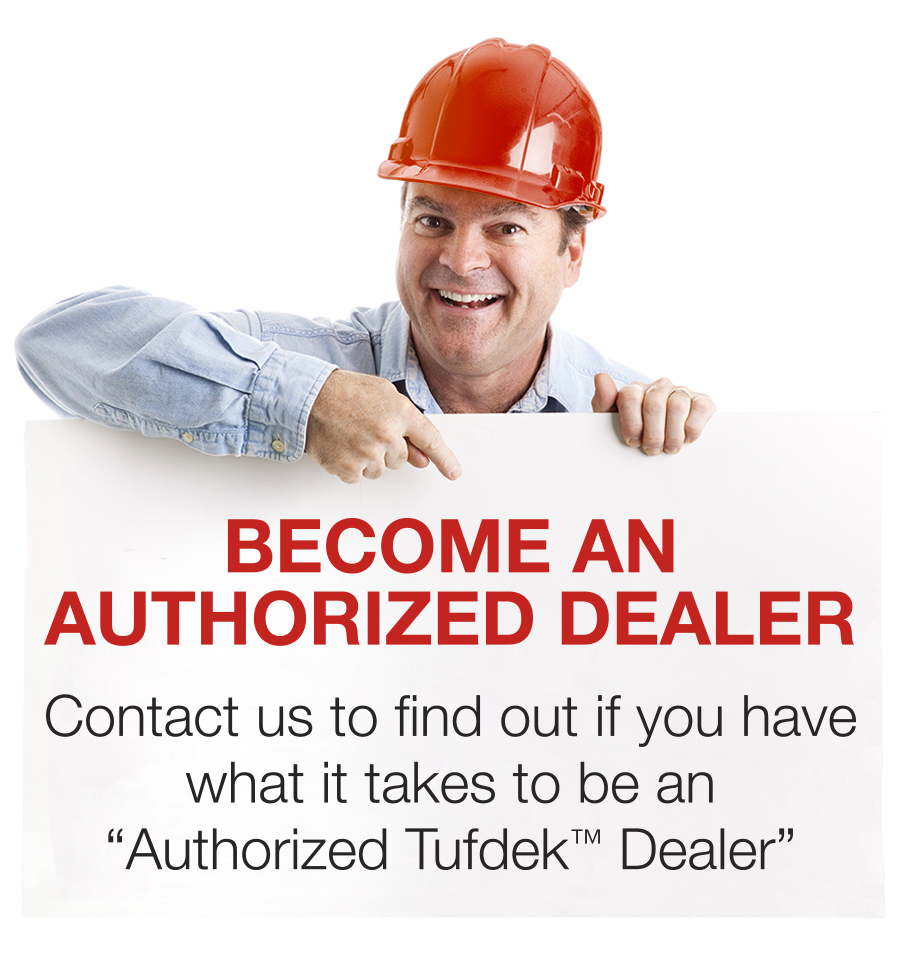 Recent Posts
If your home is in need of more space outdoors,...

A leaky vinyl deck is no joke, and without prom...

One thing that we forget to consider with a vin...
Tufdek is the WORLD'S STRONGEST vinyl decking