Designer Rustic Plank Vinyl Decking by Tufdek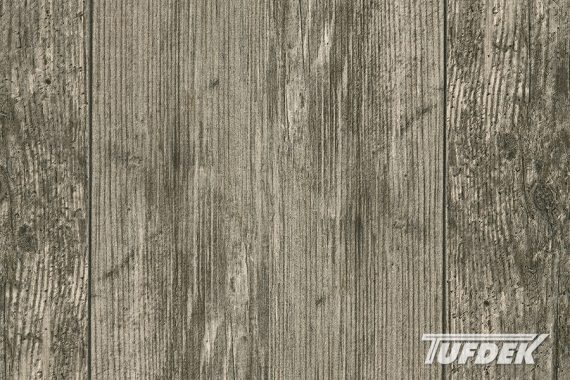 Combining the rich look and beauty of rustic plank with the hardiness of vinyl waterproof decking, designer rustic plank vinyl deck flooring by Tufdek™ offers the best of both worlds.
Perfect for large areas, Tuff Industries' designer rustic plank vinyl flooring products are eye-catching as well as durable, and engineered to resist peeling or fading. Tufdek™ waterproof vinyl decking products ensures your deck or patio will not only stay looking great for years, but you will also have a worry-free, waterproof deck surface with minimal maintenance.
Offering the look of rustic wood in cooler tones, designer rustic plank vinyl flooring would look perfect beside a country cottage or summer home. Or, install waterproof rustic plank vinyl as part of your pool deck and it will look great in combination with jewel-toned plant and flower pots.
The use of our proprietary Aqueous based inks with a revolutionary Polycarbonate top finish on all Tufdek™ vinyl waterproof deck products ensures the colors will remain strikingly vibrant and clear while being easy to maintain.
Rustic Plank, along with all our Tufdek™ waterproof vinyl decking products, is produced with quality in mind. The result is a watertight deck product that combines beautiful designs with strength and low maintenance.
After the professional installation of Tufdek™ vinyl decking by an authorized Tufdek™ dealer, you'll enjoy a beautiful waterproof deck that has an excellent resistance to wear, reduces fading from intense UV exposure and will stay looking great for through many years of use. If you are wondering how to waterproof a new deck, or how to make your renovated deck watertight, installing Tufdek™ rustic plank vinyl decking is the perfect choice.
To learn more about our designer Rustic Plank vinyl deck flooring or about any other Tufdek™ waterproof vinyl decking products, feel free to send us an email or call our Tufdek outdoor decking experts toll free at 1-877-860-9333.
Always choose colors from actual samples.
Tufdek™ Designer Rustic Plank Vinyl Flooring is only available through "Authorized Dealers".
QUALITY GUARANTEED:
Tufdek™ Designer Rustic Plank Vinyl Flooring is assembled by one of North America's leading PVC roof membrane manufacturers and quality audited by Intertek, an independent third party testing facility.
Scuffing or abrasions of the printed top surface on vinyl decking can happen if the product is intentionally or unintentionally cared for, abused or mistreated, choosing the right design will minimize potential issues. If you are using vinyl decking in a high traffic area or have a deck where scuffing of shoes or abrasions from furniture is a concern, we suggest you choose designs with less ink or contrast to minimize appearance problems. If you are concerned about vinyl decking performance ask your Authorized dealer which designs are better suited for your application.
---
Tufdek is the WORLD'S STRONGEST vinyl decking