Deck Covering
Jeremy
Waterproof Deck Covering by Tufdek
There are so many options when it comes to the materials you use to cover your deck, why choose a vinyl deck surface? Tufdek™ explores why a deck covering makes for the best deck material.
Tufdek Vinyl Deck Covering is Long-Lasting
Nothing is worse than investing in a product for your home, only to have it fail after a few years and require replacement. Your deck is something that you are going to be getting a lot of use out of, so you want the deck surface you choose to stand up to the test of time.
Tufdek is manufactured using a series of layers, with the top few layers specifically designed to resist wear and weather damage.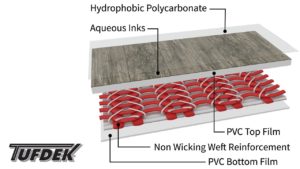 Drastically Reduce Maintenance
All deck materials require some level of maintenance, but you can choose a Tufdek deck covering that requires much less maintenance than most. With wood decks, you'll need to set aside time to sand and restain the surface every few years. Even then wood isn't waterproof – some planks will need changing as they age and rot. Vinyl deck surfaces are designed to cut down on maintenance so you can spend more time enjoying your deck – all you need is some water and a soft-bristle brush to revitalize your deck.
Increase Safety & Comfort
Many types of deck surfaces are a bit slick and can present problems when combined with water. These same surfaces also absorb the sun's heat – making for a hot deck that can easily burn tender feet. For families and the safety-conscious, Tufdek and their patented Cool Step™ technology offers a lightly textured surface to prevent slips while reflecting the sun's energy to allow for a comfortable deck surface.
Quick and Easy Deck Covering Install
Replacing a deck surface with new wood or composite means ripping out a large portion of your deck, which can lead to an increase in cost. Covering your existing deck with a vinyl membrane deck covering is a quick and easy project, which can be completed in just a few days, within a very reasonable budget.
A Vinyl Deck Surface Look Great!
Imagine completely changing the look of your deck in just a few days. You'll enjoy your deck more and even increase the value of your home. If your deck is in need of a change, consider upgrading to vinyl decking, you'll receive high-quality, waterproof protection for your deck surface and create a lovely space for your family to enjoy.
Convinced? Talk to one of our vinyl deck experts for more information.
Stop maintaining your deck and start enjoying it with Tufdek!