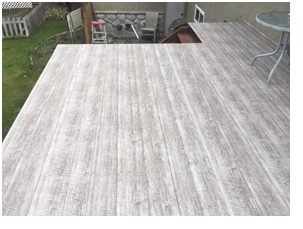 As your vinyl decking Sudbury dealer and installer for Tufdek vinyl, we will treat your home (or business) as if it were our own, so quality is assured.
Whether you are a homeowner wanting to waterproof a residential deck or patio, or a builder needing to waterproof a commercial flat roof deck or balcony, we can get the job done.
The success of our company has been built on catering to the specific needs of our clients to ensure complete satisfaction. We are locally owned and operated and provide the following services:
Expert diagnosis and recommendations
Top quality materials
Competitive pricing
Highly experienced and knowledgeable staff
Excellent craftsmanship and communication
Courteous and efficient work ethic with prompt project completion
Benefits of Deck Waterproofing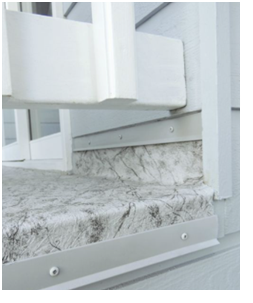 Waterproofing outdoor living spaces with Tufdek vinyl offers many advantages and benefits. Here are some of the benefits when waterproofing a sundeck, patio, balcony, flat roof deck, deck stairs, or any other outdoor walkable surface:
Protects underlying structures against water damage.
Avoids the need for expensive future restorations.
Prevents mold and mildew from forming and becoming a health hazard.
Creates a covered dry space below your deck.
Converts your flat roof into a usable outdoor living space.
Improves and expands upon your outdoor livable area.
Improves the value of your property.
Request A Free Estimate
Find out more about how cost effective it can be to create an outdoor living space that you can enjoy year-round. Talk to us and share your vision and timeline. We will then provide you with a no-obligation FREE estimate. Please complete our contact form.
Our team has excellent product knowledge plus years of renovation experience and can complete your project on time and on budget.
Communities We Service in the Greater Sudbury Area
As an authorized Tufdek vinyl decking Sudbury dealer and installer, we service both residential and commercial clients in the Greater Sudbury Area and Minnow Lake including, among others:
| | |
| --- | --- |
| Sudbury | Hanmer |
| Chelmsford | Garson |
| Lively | Val Caron |
| Val Therese | Bailey Corners |
| Garson | Simard |
| Azilda | Capreol |
About Tufdek Vinyl
No matter what project we work on, whether it is residential or commercial, we only work with proven high-quality products like Tufdek vinyl.
Tufdek is made in North America
It is one of the very best deck waterproofing products on the market
They offer one of the industry's best product warranties
Plus, you have a wide selection of vinyl decking colours and patterns to choose from
We are proud to be an authorized Tufdek vinyl decking Sudbury dealer and installer. Please connect with us if you would like to know more about this exceptional deck waterproofing product or if you would like to request a FREE, no-obligation quote.
We service homeowners and businesses located in the Greater Sudbury area.
You can reach us by completing our contact form.
---
Each dealer and installation contractor is independently owned and operated. Each dealer is an authorized licensed user of the trademarks Tufdek™, Tuff-shield™, Econodek™, Scuff Guard™ and Cool-Step™ which trademarks are owned by Tuff Industries Inc. Dealers and installation contractors have no authority to assume or create any obligation whatsoever, expressed or implied, in the name of Tuff Industries Inc., nor to bind Tuff Industries Inc. in any manner whatsoever. Dealers and installation contractors are solely liable for all installation-related repairs and defects and related warranty work. Tuff industries Inc. strongly recommends that customers first conduct their own independent due diligence and investigations regarding the experience and qualifications of such dealers and installation contractors prior to retaining them.
---
Tufdek is the WORLD'S STRONGEST vinyl decking