Tufdek Waterproof Decking Warranties & Maintenance
We believe customers should have the opportunity to review the details regarding vinyl deck warranties before they make any decision to purchase Tufdek waterproof decking products.  What good would your new deck surface be if it did not come with a detailed written waterproof warranty?
Tufdek, in conjunction with our Authorized Dealers (view our dealer project profiles page) will provide you with a written vinyl decking and labor warranty upon completion of the installation. When it comes to waterproof protection, no one provides a more comprehensive waterproofing warranty than an Authorized Tufdek Dealer.
When you have Tufdek waterproof vinyl decking installed by an authorized dealer you receive a written warranty for the waterproofing and labor on your new deck surface.
View The Various Tufdek Waterproof Decking Warranties Below
---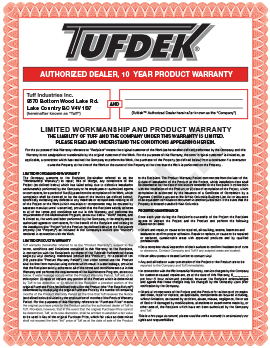 Download .PDF
Tufdek 10 Year Product & 5 Year Labor Warranty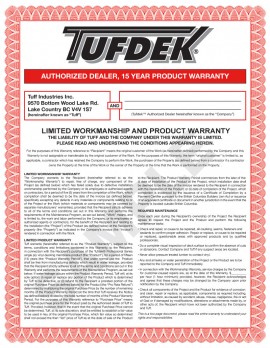 Download PDF
Tufdek Single-Ply 15 Year Product & 5 Year Labor Warranty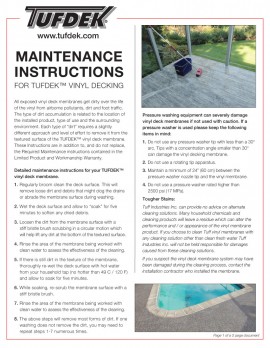 Download PDF
Maintenance Instructions - Tufdek Vinyl Decking
Each dealer and installation contractor is independently owned and operated. Each dealer is an authorized licensed user of the trade mark Tufdek™, which trade mark is owned by Tuff industries Inc. Dealers and installation contractors have no authority to assume or create any obligation whatsoever, expressed or implied, in the name of Tuff Industries Inc., nor to bind Tuff Industries Inc. in any manner whatsoever. Dealers and installation contractors are solely liable for all installation-related repairs and defects and related warranty work. Tuff industries Inc. strongly recommends that customers first conduct their own independent due diligence and investigations regarding the experience and qualifications of such dealers and installation contractors prior to retaining them.
Tufdek is the " WORLD'S STRONGEST " vinyl decking