Tufdek™ Waterproof Decking Warranties & Maintenance
We believe customers should have the opportunity to review the details regarding vinyl deck warranties before they make any decision to purchase Tufdek ™ waterproof decking products.  What good would your new deck surface be if it did not come with a waterproof warranty covering the materials and labor against leakage?
Many companies in the waterproof vinyl decking industry provide written product warranties but few require the installation contractor to stand behind the workmanship and installation portion of your new waterproof vinyl decking.  The benefit to hiring an Authorized Tufdek dealer is that they are under contract with Tuff Industries Inc. to provide warranty coverage on their workmanship. This is the reason we require all dealers to complete our specialized training program before being classified as an Authorized Tufdek Dealer.
Tufdek, in conjunction with our Trained Authorized Dealers (view our dealer project profiles page) will provide you with the most comprehensive vinyl deck waterproofing and labor warranties in the industry.  When it comes to waterproof protection, no one provides a better warranty than an Authorized Tufdek Dealer.
When you have Tufdek waterproof vinyl decking installed by an authorized dealer you receive a written warranty for the waterproofing and labor on your new deck surface.
View The Various Tufdek ™ Waterproof Decking Warranties Below
---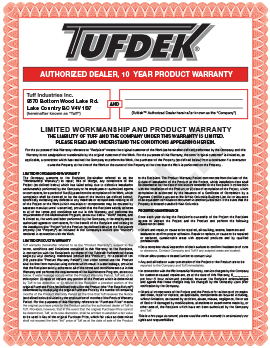 Download .PDF
Tufdek 10 Year Product & 5 Year Labor Warranty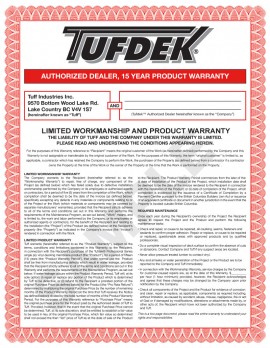 Download PDF
Tufdek Single-Ply 15 Year Product & 5 Year Labor Warranty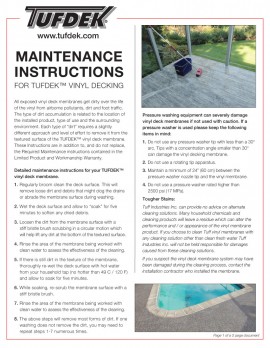 Download PDF
Maintenance Instructions - Tufdek Vinyl Decking
Tufdek is the " WORLD'S STRONGEST " vinyl decking